Our managed servers send mails under different conditions. Probably the most important part are the notifications about the used disk space.
Manage system mails
You can customize these messages and add new languages. To do this, select "System Mails" in the "System" section at the bottom left.

Customize system mails
To customize a message according to your wishes, select the corresponding mail: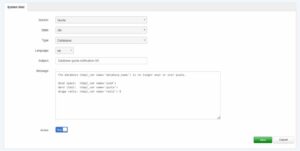 You can customize the subject and the text of the message.
Important Messages with the language "en" can neither be deleted nor deactivated, because they are only used if no other template is found.
Create a new system mail
If you click on the + symbol on the right side of the message, you can create the message in another language.
Usage of new system mails
When the server sends a notification (e.g. quota notifications), the corresponding template is determined in the following order:
Template that matches the customer's language (see Customers / Language) and is active.
Template that matches the language English
https://schaal-it.com/wp-content/uploads/2017/08/ball-457334_1920.jpg
1080
1920
admin
https://schaal-it.com/wp-content/uploads/2017/07/schaal_it_logo2_2_-_800px-300x50.png
admin
2022-12-12 00:00:06
2022-12-12 12:49:15
Customize system mails