On our managed mail servers and full-managed servers you can not only set greylistening for each mailbox to on and off for the spam check, but also for RBL, SPF and spoofing.
SPF and RBL are automatically activated for new mailboxes, greylistening and spoofing are disabled by default.
What do these spam checks do in detail?
SPF
The owner of a domain can specify which servers are allowed to send mails. If delivery via another server is attempted, the mail can be rejected directly. This happens in particular with spam mails if the sender in a mail is forged. Unfortunately, there are also postmasters who define these specifications incorrectly or simply forget to add a new server.
It can also lead to problems with the SPF check if mails are sent via an external mail gateway beforehand.
RBL
Our mail servers check incoming mail across one or more lists of servers that have recently sent spam. Connections from "spam spinners" are rejected directly.
Greylistening
At the first connection the sending mail server gets a message that it should try again in a few minutes. This can reduce spam, but is not always optimal for mailboxes that are used for direct communication with customers. Otherwise it can happen that the customer sends a mail and then you have to explain that the reception can take up to 5 minutes.
If a mail server has passed the other checks on the second attempt, its IP is on a whitelist and mails sent later arrive without greylistening.
Spoofing
Email spoofing refers to the forgery of the email header so that the message gives the impression that it has a different origin or source. Spam distributors often use spoofing to get the recipients of the email to open the message so that they respond to its content.
Set individual checks
Log on to your server in ISPConfig and select the mailbox for which you want to customize the SPF, spoofing, or RBL check.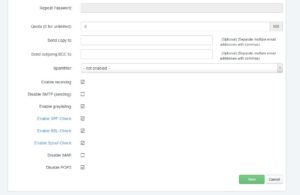 https://schaal-it.com/wp-content/uploads/2017/08/ball-457334_1920.jpg
1080
1920
admin
https://schaal-it.com/wp-content/uploads/2017/07/schaal_it_logo2_2_-_800px-300x50.png
admin
2019-01-24 00:00:21
2020-02-06 06:47:56
Enhanced spam check for mailboxes