If you want to comfortably set up a new site on your managed server, just click the "Add new website using assistant" button at the top of the website overview.
Supported CMS
Invoice Ninja
Joomla 4 with Redis-Cache
Magento 2.4
Mautic 4
Matomo Analytics
Shopware6 with Redis
Shopware 6 with Redis and Elastic-Search
SilverStripe 4
Typo3 11 – 12
Nextcloud 26 – 27 with Redis
WordPress with Redis-Cache
WordPress Multisite
Webmailer RainLoop
Webmailer Roundcube
Access data and info mail
If you wish, you can send the customer and other recipients an automatically generated mail containing the relevant information about the newly created pages. In any case, after creating the page, the required information will be displayed directly in ISPConfig.
Wizard
If you clicked on "Add new website using assistant", you will see the following screen: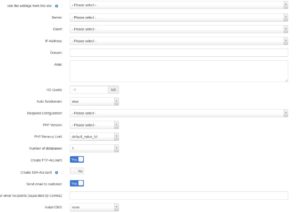 Available settings
You can make various settings for a new website.
If you want to take over the settings of an existing page, you can select it at the top.
If you also want a CMS to be installed automatically, select it under "Install CMS".
If you have not selected a "Required configuration", the appropriate configuration will be used automatically.
When you did not select the PHP version, the default PHP version of the server will be used. The only exceptions to this are CMSs that require a higher version than the standard version. In this case, the wizard automatically selects the appropriate PHP version and sets up the website accordingly.
If the wizard supports the use of Redis for a CMS, the corresponding Redis instance is created and configured accordingly.
https://schaal-it.com/wp-content/uploads/2017/08/ball-457334_1920.jpg
1080
1920
admin
https://schaal-it.com/wp-content/uploads/2017/07/schaal_it_logo2_2_-_800px-300x50.png
admin
2021-04-19 00:00:14
2023-08-25 08:25:56
Setting up a new website using the wizard