On our managed servers you can view the versions of the additional PHP version directly in ISPConfig. If a new version is available, you can update the PHP version or use the "Auto-Update" function. With Auto-Update" enabled, the PHP version will be updated as soon as a newer version is released.
additional PHP versions
Additional PHP versions can be installed in addition to the PHP version of the operating system and then used for individual web pages. PHP versions 5.6 – 8.2 are available on our managed servers. The ionCube loader is always installed with all versions.
show additional PHP versions
Log in to ISPConfig on your server and click on "Tools" in the upper right corner and then "Manage PHP Versions" in the lower left corner. You will be shown the installed versions: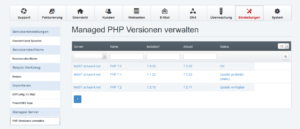 You can see at a glance which versions are not updated or whether an installation is currently being updated.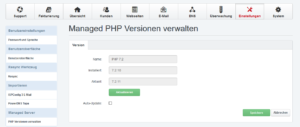 If an update is available, you will be shown the button "Update" and can immediately start the update. You also have the option to automatically update a version. All you have to do is check the box "Auto-Update" and save the settings.
https://schaal-it.com/wp-content/uploads/2017/08/ball-457334_1920.jpg
1080
1920
admin
https://schaal-it.com/wp-content/uploads/2017/07/schaal_it_logo2_2_-_800px-300x50.png
admin
2018-11-02 00:00:40
2023-04-13 07:51:46
Update PHP versions (automatically)